Motors, circuit boards, coils, fridge units, bulbs – you name it, we have it.
If there is a part or a piece of equipment that you require to get your machine back in action – let us know and we can get it out to you.
Should you not know what the problem that you have is – then give us a shout and we can diagnose it over the phone and tell you what is required.
95% of parts are in stock and would be dispatched the same day for delivery.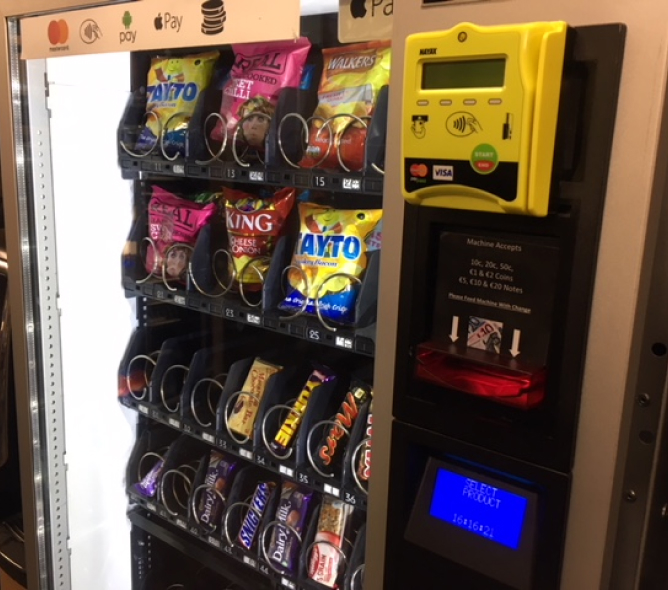 Vending Machine Parts we stock:
2 POLE RELAY 
.3 AMP FUSE – ALL SNACK M/C
8 MOTOR TRAY HARNESS-SF/SA/TA
BALLAST 230V – SF/RON
BIN RETURN SPRING – ALL SNACK
BUSH FOR TRAY – ALL SNACK M/C
CAPACITOR – SF/SN/SPR/EM/VV
CASH BOX KEY
CELL TRAY – SNAKKY MAX/JAZZ
COIN BOX – SF/RO/TAN/JAZZ/ORC
COIN INSERT PLATE – SFERA/SM
COIN INTRO CHUTE-SNA/MEL/TA/JA
COIN RETURN – SNAKKY
COIN RETURN ASSEMBLY – SNAKKY
COIN RETURN BUTTON – BLACK
COIN RETURN BUTTON – SAM/ORC
COIN RETURN BUTTON – SILVER
COIN RETURN BUTTON-SFERA/RONDO
COIN RETURN FLAP – ALL M/C
COIN RETURN FRAME – SILVER
COIN RETURN FRAME- SA/CA/FE/OR
COIN RETURN LEVER – ALL SNAC
COIN RTN BTN GREY SNAKKY/KIKKO
CONDENSATE TRAY – SFERA
COOLER MOTOR – SNAKKY/MELODIA
DISPLAY – BLUE – ZE/ST/AS/SF,
DISPLAY – MEL/OP/FES/TAN/JAZZ
DISPLAY GLASS – SNAKKY/KIKKO
DISPLAY GLASS-ME/7100/OP/TA/JA
DISPLAY-BLUE-SNA/KIK/BRI/KOR
DOOR SWITCH-SF/ST/ME/FE/TAN
95% of parts are in stock today available for immediate delivery – click for pricing.